NCA Accreditation and AdvancED Accreditation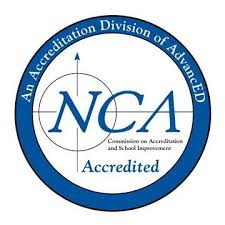 St. James Catholic School is part of "The Archdiocese of Denver Catholic Schools." This system of schools is unified by a common tradition, purpose, and vision; yet our schools are distinctive, proud, and self-governed. In 2009 AdvancED, an international organization and the parent organization of North Central Association, validated our brand by accrediting our system and through that process renewing the individual accreditation of each of our 39 schools. This is good news to be celebrated! It validates the strong education provided by the Archdiocese of Denver Catholic Schools and commitment to continuous improvement. It also conveys our dedication to the brand promise—confidence that our children will experience more complete development and unsurpassed academic and personal success.
What is accreditation?
Accreditation is a method of quality assurance which evaluates and verifies an institution's quality and encourages continuous improvement. District accreditation is a new and challenging model, and we are only the eighth Catholic school system to earn this designation. It is a protocol for school systems committed to systemic, systematic and sustainable improvement designed to ensure that an entire system is aligned in the accreditation process.